Spend your time and energy teaching.
Growing a music, theater, or dance program is so much work, with so little time. Fine Arts teachers need help managing the business side of a program — sending emails, keeping inventory, tracking financials — so they can use more of their time teaching and inspiring kids.
At Presto, we're dedicated to serving your arts program's logistical and financial needs with fast and reliable leading edge technologies, modern easy-to-use design, and impeccable customer support.
Like an old friend, Presto is...
Accessible

You're covered on any device with our state-of-the-art app, so you can take care of business anywhere.

Reliable

Cutting-edge infrastructure means no downtime or slowdown, even during the busiest times of the year.

Helpful

Your satisfaction is incredibly important to us. You can expect a response to any concern within 24 hours.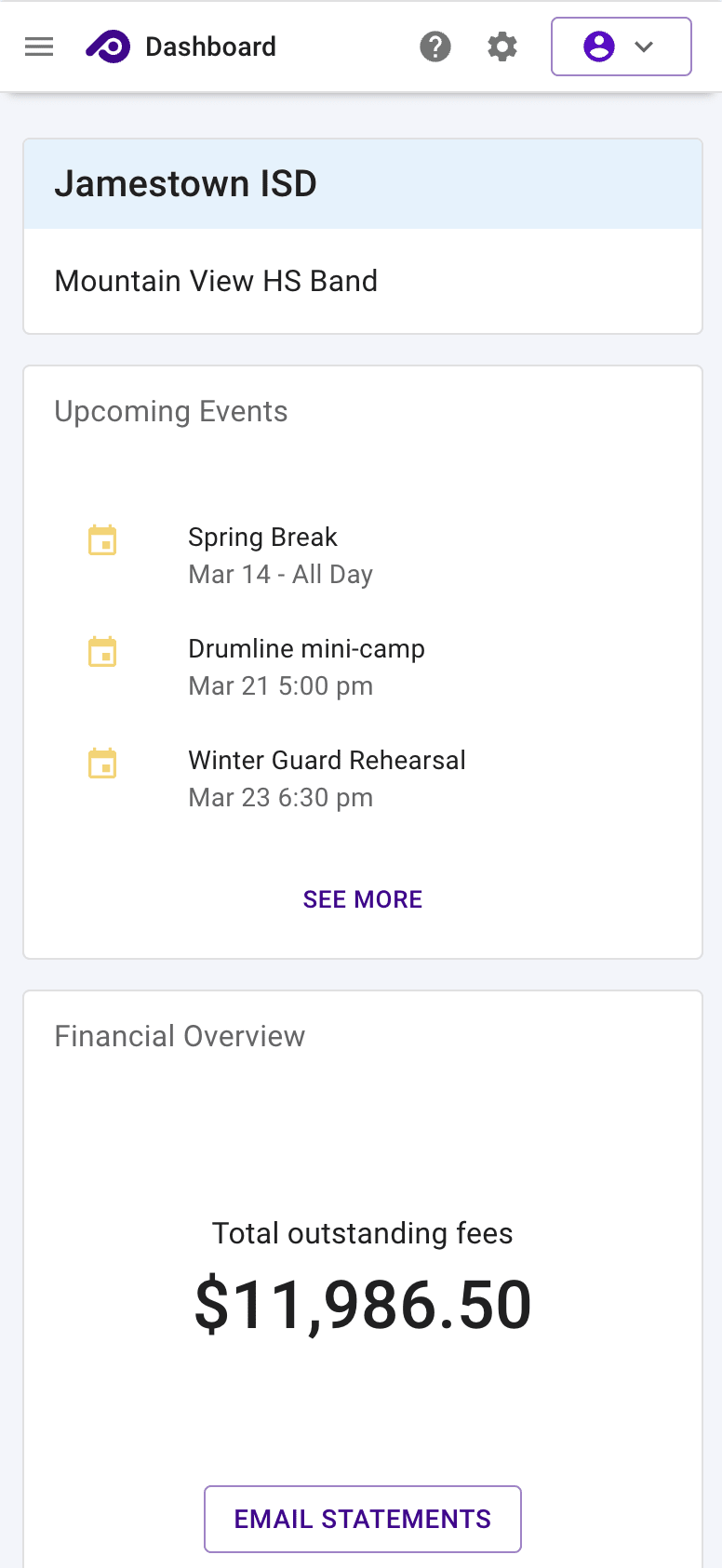 Let us work our magic.
See the wonders Presto can do for your to-do list:
Email

Communicate to all your students and parents in minutes.

Easy Parent Login

From one login, parents can make online payments and update info for all their children.

Inventory

Keep a watchful eye on all your equipment and materials.

Finances

Easily track all money going in and out of your program.

Library

Find whatever music or scripts you want from your collection in a snap.

And more...

Additional features, now and in the future.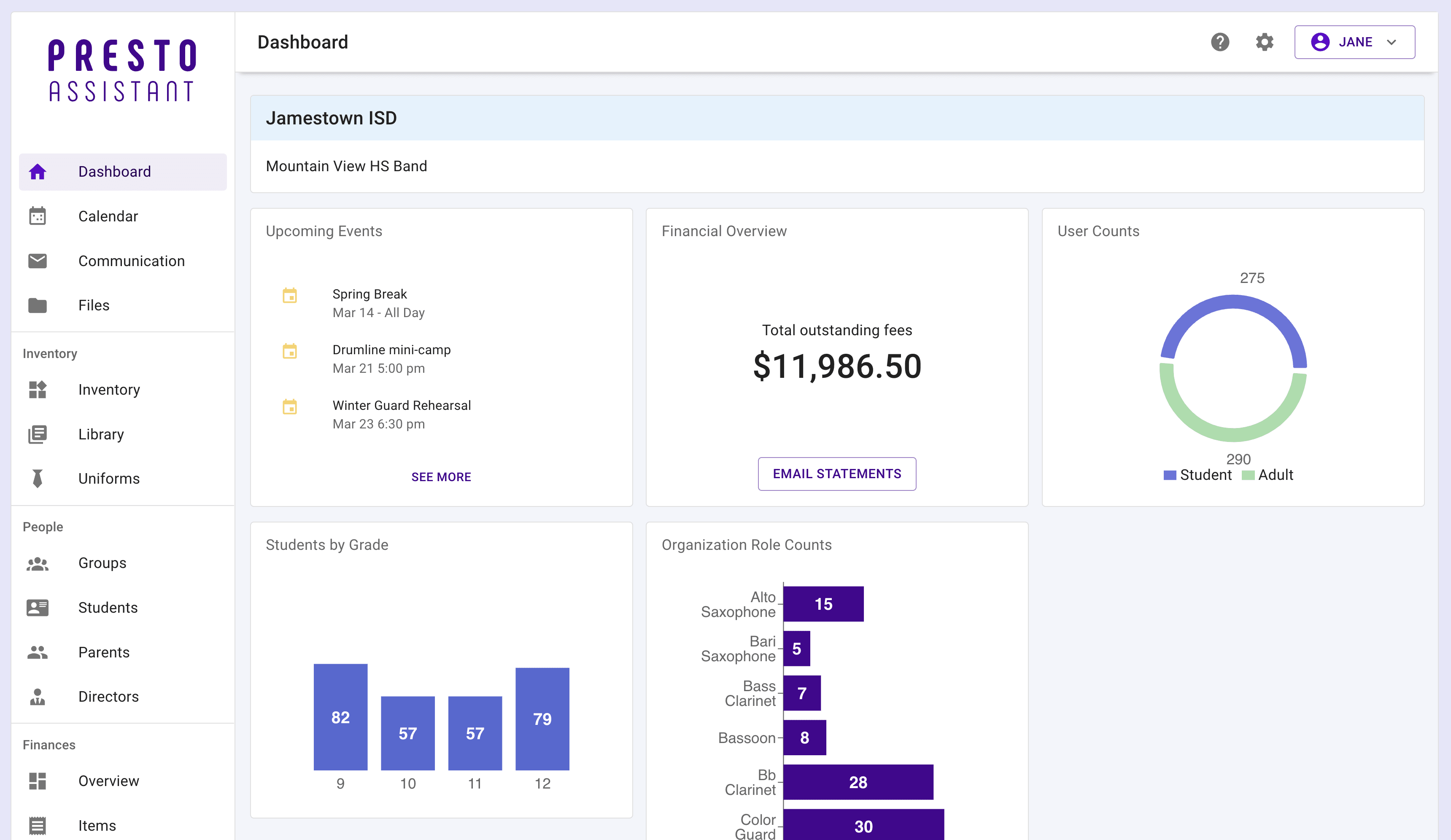 Every fine arts program is different, with unique management needs — and we're flexible and agile enough to handle whatever those needs may be. Let Presto do the heavy lifting, so you can spend more time making a difference in students' lives.
"Presto Assistant has been a game changer for our district fine arts programs. Our teachers are using all aspects of the program to save time and energy that they can invest in educating kids. Teachers consistently rave about the high level of customer support and the ability to connect directly with the developers. Presto listens, responds, and helps us achieve excellence in the arts by supporting arts educators' needs."
Jeff Bradford
Executive Director of Fine Arts
Richardson ISD
"The Presto Assistant Team has gone out of their way to listen to the needs of our directors, students, and families, to create a robust fine arts management platform that has made organizing our programs so much easier! The Presto Team values our partnership and continues to update the program based on the needs of its users."
David Wright
Assistant Director of Fine Arts
Keller ISD
"Our district's transition to Presto Assistant couldn't have been smoother. They made it so easy to transport all the data we needed. The learning curve was short and we were down to business with organizing and running our programs in no time. I really love the "meat and potatoes" approach to data management along with the at-a-glance features with relevant data. And to top it off, Austin and Mike have made it their mission to respond to provide quick and responsive customer service."
Toby Jones
Assistant Orchestra Director
Berkner HS, Richardson ISD
"Presto is a breath of fresh air after having used a competitor's product for a number of years. The user interface is so well thought out and easy to use. Setting up student and parent accounts is a breeze. We've never used the financial aspect of the competitor's product, but fully intend to use the financial features of Presto. We also really appreciate the ability to reach out and receive timely feedback from the creators any time we have a question. We cannot recommend Presto enough to help manage your program!"
Chris Eaton
Assistant Band Director
Red Oak MS, Red Oak ISD
Free

$0

for 30 days

Try it free.

---

Send up to 25 emails

Limited access to all features

Account never expires

Presto

$299

per year / per organization

Covers all your bases.

---

Unlimited emails

Full access to all features

Unlimited file storage